Circles of Care
Find out about the Circles of Care Program at Lassen Indian Health Center. We love being part of our community and invite you to join us in future events.

Serving the Community of Susanville and Lassen County
Circles of Care
---
A Holistic Approach for Mental Health & Wellness
Circles of Care is a 3-year grant received by SIR from the Substance Abuse and Mental Health Administration (SAMHSA). The goal of Circles of Care is to plan & design a holistic approach to support mental health and wellness for our Native American Youth and Families. The project reflects the System of Care philosophy, which is a coordinated network of community-based services working together to meet the needs of Native Youth and Families.
Circles of Care Core Values
Community Driven
Youth Guided
Culturally Competent
Community member involvement and collaboration is key to the success of our project. Please look for our logo on flyers, posts and media for opportunities to use your valuable tribal voice in planning and developing our System of Care.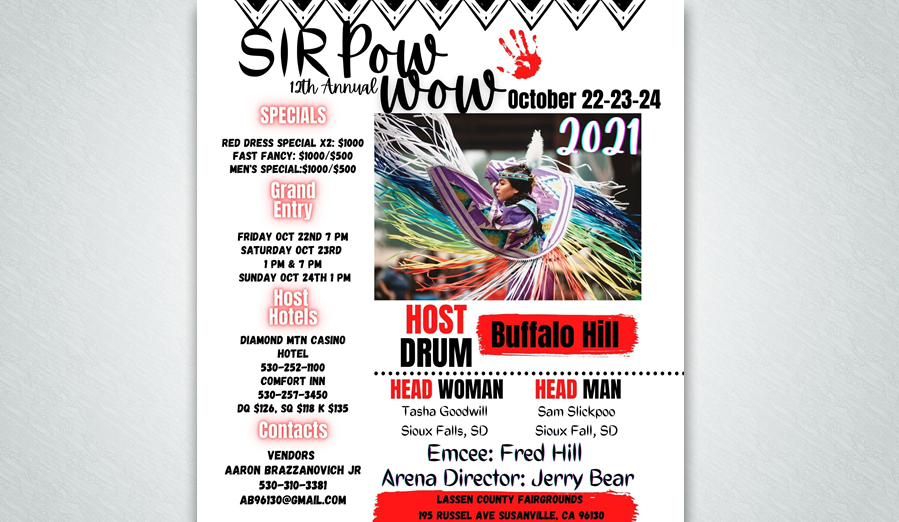 12th Annual SIR Pow Wow
Susanville Indian Rancheria is celebrating its 12th Annual SIR Pow Wow this summer. The Pow Wow will feature three days of Native American dance competitions at the Lassen County Fairgrounds. The event was originally scheduled for August 27th-29th, however, given the current circumstances of our community, we have made the decision to postpone this event until the Fall. The Sir Pow Wow will be postponed until October 22, 23, 24.

Several of our local Native American tribes will be represented at this spectacular event that features Buffalo Hill as host drum. A large selection of Native American art, crafts, jewelry, and food will be available for sale. Come join us for this unforgettable cultural event. For more information, please visit the Pow Wow website or click the link below to download the flyer.
Download Flyer