COVID-19 Update
At Lassen Indian Health Center, our goal is to keep you safe during the COVID-19 pandemic. We have made a few changes to how we deliver service in order to ensure your safety while continuing to provide you with quality healthcare and dental services.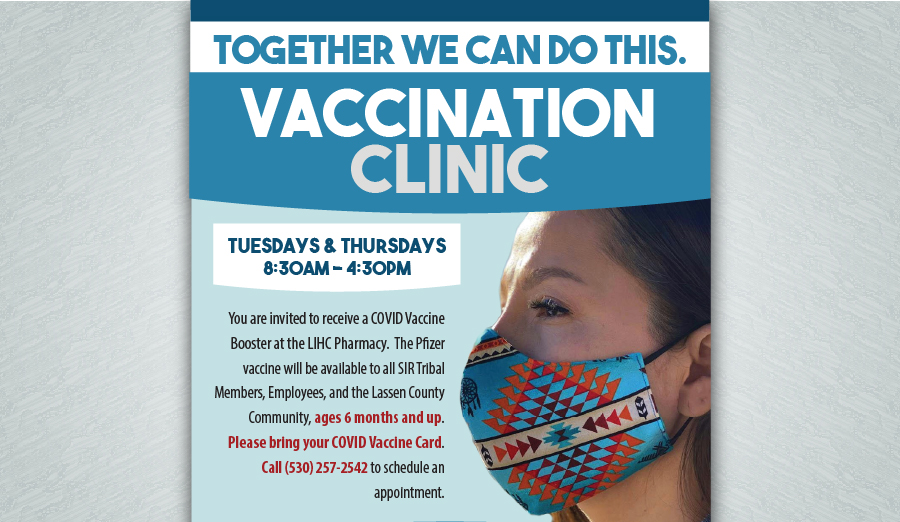 Vaccination Clinic
You are invited to receive a COVID Vaccine Booster at the LIHC Pharmacy. The Pfizer vaccine will be available to all SIR Tribal Members, Employees, and the Lassen County Community, ages 6 months and up. Please bring your COVID Vaccine Card. For more info, please call (530) 257-2542.
Download Flyer
Our pharmacy at Lassen Indian Health Center currently has the updated Pfizer bivalent booster in stock! Please schedule an appointment.
What You Need to Know:
CDC recommends everyone stay up to date with COVID-19 vaccination, including all primary series doses and boosters for their age group:
People ages 6 months through 4 years should get all COVID-19 primary series doses.




People ages 5 years and older should get all primary series doses, and the booster dose recommended for them by CDC, if eligible.




People ages 5 years to 11 years are currently recommended to get the original (monovalent) booster.




People ages 12 years and older are recommended to receive one updated Pfizer or Moderna (bivalent) booster.




This includes people who have received all primary series doses and people who have previously received one or more original (monovalent) boosters.




At this time, people aged 12 years and older can only receive the updated Pfizer bivalent booster.




Getting a COVID-19 vaccine after you recover from COVID-19 infection provides added protection against COVID-19.




People who are moderately or severely immunocompromised have different recommendations for COVID-19 vaccines, including boosters.




COVID-19 vaccine and booster recommendations may be updated as CDC continues to monitor the latest data.



COVID-19 Testing
Lassen Indian Health Center offers testing for COVID-19 to Tribal Members, LIHC Patients, and SIR Employees. Please call 530-257-2542 to learn more and schedule your appointment. Patients must schedule an appointment for their test and then call upon their arrival. A nurse will come to the patient's vehicle to perform the test. Patient's are requested to wait in their vehicles for test results and further instruction from the nurse.
Telehealth Appointments
During this time, we encourage patients to call for more information about making in-person appointments. Telehealth is available for both Medical and Behavioral Health appointments. Different options are available for Telehealth appointments including video-calls as well as telephone calls.
Measures to Ensure Your Safety at LIHC
The following measures have been put into place during the COVID-19 pandemic in order to protect our patient and staff during in-person appointments at the clinic:
Staff and visitors are required to wear masks


Increased cleaning protocols for exam rooms, waiting rooms, restrooms and other public areas


Social distancing practices at check-in, waiting rooms, and exam rooms


Screening questions and temperature checks for staff and visitors


Limitations on the number of people who can be in the clinic at the same time


Use of personal protective equipment (PPE) for doctors and staff


Special measures for people who have or may have COVID-19


Telehealth appointment options
Guidelines for Clinic Appointments
Wear a mask at all times within the clinic.


Practice social distancing keeping at least 6 feet between yourself and others.


Wash your hands with soap and water for at least 20 seconds or use hand sanitizer with 60% alcohol before and after touching surfaces in public areas including door handles, countertops, and other objects in the waiting room.


Avoid touching your face, including your eyes, nose, and mouth.


If you are experiencing COVID-19 symptoms before your appointment, please call and inform the clinic right away so that you may receive further instruction.