News & Events
Find out about the latest Lassen Indian Health Center news and events. We love being part of our community and invite you to join us in future events.
Free Items at the Distribution Center
On Thursday, September 16, 2021, the Distribution Center will be open from 9:00am to 2:00pm for the Elders to pick up free items.

On Friday, September 17, 2021, the Distribution Center will be open to ALL Tribal Members from 9:00am to 2:00pm.

If you have any questions, please call Cristi @ 310-7274. Thank you!
Download Flyer
Vaccination Clinic
You are invited to get your free Covid-19 vaccine at Lassen Indian Health Center's vaccination clinic August 25, 26, 27 and September 15, 16, 17 from 8am to 12pm. The Pfizer vaccine will be available to all members of our community, ages 12 and up. Call (530) 251-5115 ext. 5038 for more information. Together we can do this.
Download Flyer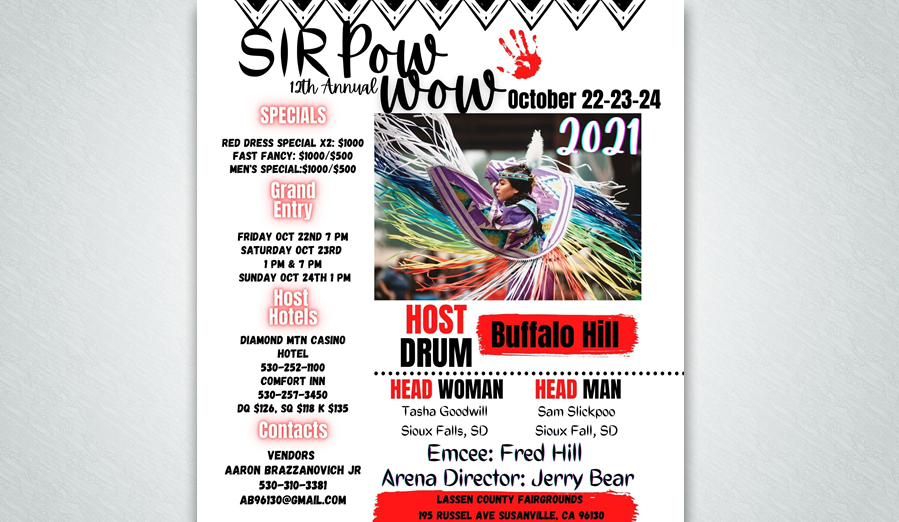 12th Annual SIR Pow Wow
Susanville Indian Rancheria is celebrating its 12th Annual SIR Pow Wow this summer. The Pow Wow will feature three days of Native American dance competitions at the Lassen County Fairgrounds. The event was originally scheduled for August 27th-29th, however, given the current circumstances of our community, we have made the decision to postpone this event until the Fall. The Sir Pow Wow will be postponed until October 22, 23, 24.

Several of our local Native American tribes will be represented at this spectacular event that features Buffalo Hill as host drum. A large selection of Native American art, crafts, jewelry, and food will be available for sale. Come join us for this unforgettable cultural event. For more information, please visit the Pow Wow website or click the link below to download the flyer.
Download Flyer
Event Photo Gallery
---
Denim Day 2021
Walk a Mile 2021
MMIW 2021
Love is Love: You are Not Alone 2021